I step from asphalt through a chain-link fence into a forest oasis in the middle of a busy college campus. I'm immediately engulfed by native woods that couldn't be more different than the world just outside of it. A few steps inside I notice the rich amber color of a pond cypress trunk. Then I notice many other native trees that thrive in wet areas, especially the half-hollow flared bases of black gum (tupelo) trees. I also quickly come across very large sweet gum trees with moss covered bases; they are not quite the largest I've seen, but they are bigger than most and plentiful. And all of these lovely trees are surrounded by beds of bright green ferns, including the prolific sensitive fern and the distinctively tall green and gold cinnamon fern.
The path through the preserve is wide and leisurely. You can always hear the sound of machinery and cars (and smell Fisher Union), but you can't help but be enveloped in the inspiring wildness of this unique spot. The songbirds will distract you from all worry. Pileated and red-bellied woodpeckers will attract your attention by their distinctive sounds. Your eyes will wonder what kind of fern they are resting upon and whether or not that was a tiny lizard or grasshopper you just saw out of the corner of your eye.
Maple, magnolia, pond pine, longleaf pine, and black cherry make up most of the other trees in this forest. Wildflowers and a variety of other native plants carpet the ground. There's also a small pond with a picturesque bridge where you can stop and watch the turtles. Down a side trail you'll find five garden beds of various pitcher plants and of course, the elusive venus flytrap.
Many trees are labeled and there are a few worn "Quietpoint" signs featuring inspiring quotes. The path is easy to follow, wide, and relaxing.
Dragonflies and swallowtail butterflies flutter by. Gray gnatcatchers and yellow-rumped warblers frolic in the understory. A gentle breeze brings the coolness of the forest shade. Squirrels scamper up impossibly thin branches. Ferns imperceptibly unfurl their tight fiddlehead fronds. This forest is a tiny, but intensely beautiful oasis in the middle of a busy campus, in the middle of a busy city.
---
Bluethenthal Wildflower Preserve is located on the University of North Carolina Wilmington (UNCW) campus. Due to efforts by university biologists and the subsequent involvement of the Bluethenthal family, these 10-acres were officially dedicated as the Herbert Bluethenthal Memorial Wildflower Preserve in 1974. Parking is available in the adjacent visitor's parking lot or in a few metered spots by the sign, but this could change. For further information visit: https://www.uncw.edu/physicalplant/arboretum/bluethenthal.html.
---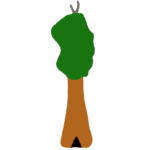 About the Author:
Sue Cag is a musician, artist, writer, photographer, and nature preservationist.
---
All photos and video by Sue Cag. All Rights Reserved. Photos and video may not be used without permission.
---
PHOTO GALLERY

All photos by Sue Cag. All Rights Reserved. Photos may not be used without permission.