I've never successfully spotted a whippoorwill before. I hear their melody so often, but I've never seen one because they're small and camouflage so well. But here in Brunswick Nature Park, I spotted one through my binoculars, low on a log, practically invisible to the naked eye. She wouldn't let me approach, holding her position until I got too close, then flying off and disappearing into the bark of another fallen tree. What a treat to actually see one in the wild, in the middle of the day no less. Discoveries like this are waiting around every corner for those who take the time to wander and look.
The whippoorwill sighting was just the beginning. I sat by the water and noticed two ospreys in the trees above. I watched small logs and debris float slowly down the creek in the changing direction of the tide. The quiet was punctuated only by sizable fish jumping out of the water and the regular drumming of a pileated woodpecker.
After a picnic lunch by the water I walked the Live Oak Trail (which has surprisingly few live oaks). Tiny lizards darted through the leaves as I passed. I stopped to spy on them but they were too fast and blended in too well. I took the spur to a pond partially covered with lily pads. After looking closely, I found an alligator with babies! Mom kept still and I might not have spotted her if it weren't for the movement and mewling of her young giving away their position. I looked along the shoreline and found her and more little ones. Just then a bicyclist zipped past and scared all of us. The alligator jumped into the water and out of sight. There are several adjacent trails for bicyclists, but unfortunately they often ride the walking-only trails too – later on I was almost knocked over by another one I didn't hear coming while watching a warbler through my binoculars.
After the Live Oak Trail I walked the Dogwood Trail, starting by the creek. Plenty of skinny dogwood trees lined their namesake trail, showing off their creamy springtime flowers. I also found pink azaleas, maidenhair fern, oak toe lichen, and even a small pawpaw tree in bloom.
Though most of the trees here are quite small and young, I was pleased with the variety of tuliptrees, gums, oaks, pines, maples, black cherry, and dogwoods. I also found one quite large tuliptree and two huge dead ones with new trees growing out of them. A remarkable lone cypress caught my eye as well, with many knees jutting from the soft earth. If left alone, this forest will be fantastic in the future.
As I approached the Longleaf Pine Trail, I saw flashes of crimson plumage as woodpeckers hopped from tree to tree. The sun fell low in the sky behind me and I turned to watch the amber rays pierce the thin pines and shine through young southern red oak leaves, making them appear as if they were glowing.
The trail ended by the entrance road where I found a long stretch of recently planted longleaf pine trees. This is one of many efforts to revive longleaf pine trees since they were nearly wiped out.
I made my way back to my car and drove away slowly down the dirt road in the waning light. Although there weren't many large trees in the park, after exiting I found many large live oak trees along River Road, fully draped with Spanish moss. I pulled away from traffic into several neighborhood areas to admire them. Some of these live oaks have been here through at least three or four of our lifetimes. I wish I could live long enough to see the trees in Brunswick Nature Park grow so big and old, but a human life is so much shorter, barely a blip on nature's timeline.
---
Brunswick Nature Park is located at 2601 River Rd SE in Winnabow, NC, approximately 10 miles from Wilmington. Open year round from 8am until dusk, the park's 911 acres include a kayak/canoe launch site, a picnic pavilion, hiking trails, and biking trails.
---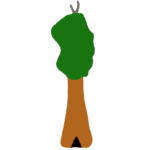 About the Author:
Sue Cag is a musician, artist, writer, photographer, and nature preservationist.
---
All photos and video by Sue Cag. All Rights Reserved. Photos and video may not be used without permission.
---
PHOTO GALLERY

All photos by Sue Cag and Kim Dicso. All Rights Reserved. Photos may not be used without permission.
SaveSave