by Sue Cag
Update: still looking as of May 1, 2023
I try not to get too personal here because I want the focus to be on the trees, but I've realized that in order to help the trees I have to sometimes ask for help myself, something that is hard for me to do. It's been a year and a half since I lost my home and a big part of my sequoia forest in the Castle Fire. My partner and I are currently renting a cabin very close by which we like very much, but it's a temporary situation. We need to find a space of our own. Being sort of homeless has brought a huge amount of stress. It's a very weird feeling not having a home or any plan for one. I feel adrift, with no real place in the world.
I'm looking for quiet. I've looked all over the country for an affordable forested area with lots of space that's not too hot and not too loud. No luck. I've also been priced out of what's left of my own neighborhood by city folks with deep pockets. I'm not like other people who come up to the mountains with their machines and cacophony. I'm here for the trees. I try to treat the forest as the unique and precious heaven that it is.
It's likely that I'm simply running into habitat loss, just like every other wild animal on the planet. There's no place for my kind anymore. I need space to be wild and free. I need to be able to hear nature's signals to find my way.
This post represents one final effort to bushwhack a path beyond this dead end. I appeal to you, dear tree friend. If you hear of a cabin in the middle of nowhere, think of me. If you know of a quiet place where one can live, let me in. If you find a landowner who is looking for a conservationist to continue preserving their paradise, that could be me. If you stumble across a community working on climate change, connect us. Keep your eyes and ears open. You could very well be my saving grace.
Thank you for reading ilovetrees.
Sue Cag

---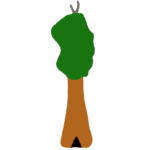 About the Author:
Sue Cag is a musician, artist, writer, photographer, and nature preservationist.
---
All photos and video by Sue Cag. All Rights Reserved. Photos and video may not be used without permission.
---