Whitethorn was an extraordinary sequoia with massive limbs and a wildly gorgeous crown. The giant had been slowly burning to death since the SQF Complex / Castle Fire tore through on September 13th, 2020. It finally broke in half and perished following a wind and lightning event on June 18th, 2021. This video shows the giant burning on the ground after the top fell off. Whitethorn's remains are located on privately-owned Save the Redwoods League land in the southeast corner of Alder Creek Grove.
---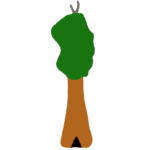 About the Author:
Sue Cag is a musician, artist, writer, photographer, and nature preservationist.
---
All photos and video by Sue Cag. All Rights Reserved. Photos and video may not be used without permission.
---