We lost the Great Bonsai Tree in the 2020 SQF Complex / Castle Fire. It was one of the most remarkable trees in the world. Mountain Home was hit hard by the fire in the east, west and northeast areas of the grove. From Alder Creek, I can see countless dead sequoias, either leafless skeletons with blown-off tops or fully scorched brown crowns. A moonscape descends from the big trees down to the Tule River on the east side. A large number of green giants survive in the more central areas of the grove. The forest is currently closed until further notice as the fire continues to smolder.
[The Great Bonsai Tree] is one of the great sequoia sights to be seen anywhere… On a pile of rocks is a monstrous sequoia with many huge limbs almost extending to the ground. Although not one of the very large trees, this short sequoia has no equal in visual impact. There is reason to think this is an old, old tree.
– Wendell D. Flint, To Find the Biggest Tree
Further reading:
Mountain Home Castle Fire Update
Great Bonsai Photo Gallery
---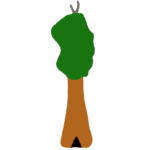 About the Author:
Sue Cag is a musician, artist, writer, photographer, and nature preservationist.
---
All photos and video by Sue Cag. All Rights Reserved. Photos and video may not be used without permission.
---