Image: Giant sequoia marked for cutting
April 3, 2022: Save the Redwoods is continuing its logging operations in the Alder Creek sequoia grove. More roads are being cut. More trees are marked, including sequoias. Sequoia seedlings are being bulldozed! 
Save the Redwoods League continues to log the Alder Creek giant sequoia grove, including clearcutting a large swath. This member-supported operation is scheduled to continue for years. Trucks piled high with trees regularly exit the forest as the logging continues unabated. Save the Redwoods League plans to log two million board feet from the grove.
Find more details in these two articles:
Save the Redwoods League Logging
Save the Redwoods League is Logging Alder Creek Grove
Where is this happening?
The largest cut is ongoing in the southern portion and moving farther north into the grove. Most people who visit Alder Creek only go to the Stagg Tree which is located in the northeast corner of the grove. Several trees are marked for cutting in that general area, as well as the western side of the SRL land, but the most egregious activity is happening largely out of sight. To see it for yourself, start at the south end (upon entering Sequoia Crest) and head east at an obvious neighborhood clearcut. Here are coordinates:
Largest clearcut: 36.18075, -118.62573
More sequoia seedlings being destroyed: 36.18421, -118.62862
Here's a quick list of what's not right about Save the Redwoods activities:
– Logging an ancient sequoia grove is wrong and repeats the tragedies of the past.
– Seedlings of all kinds are being destroyed, including sequoias!
– At first only dead trees were being cut, but now both living and dead trees are being cut, including smaller sequoias.
– Logging increases climate change by disturbing the carbon sequestered in these trees.
– Logging directly increases temperature *heat* in a world already too hot by removing the trees that are filtering the hot sun.
– Logging directly increases drought by removing trees that add moisture and shade and causing the soil to dry out because it is fully exposed to the sun.
– Increases runoff – trees are no longer there to hold water on steep slopes so it washes away, leaving none for any remaining trees or new growth.
– Increases wind due to the removal of natural windbreaks. Wind drives wildfire and increases its severity.
– Roads are built and all corners of the forest are bulldozed, stripping and compacting the soil.
– Logging destroys the forest ecosystem which will never return as it once was.
– In areas impacted by fire, the forest will recover on its own, in its own time, despite our hubris.
– Logging destroys all wildlife habitat, including bear, mountain lion, bobcat, coyote, fox, deer, peregrine falcon, goshawk, grouse, and spotted owl habitat (all of these animals are present in Alder Creek).
– Birds are being killed, their nests destroyed, as the trees are cut down during the active breeding season.
– May be replanted using foreign seedlings which will forever alter the genetics of a rare and endangered forest.
– Wastes water in a drought-stricken area to force artificial seedling growth.
– Assumes plantings will survive long-term despite being located in an area that is too hot and too dry.
– Completely distracts people from addressing climate change, which is what we really need to be doing!
---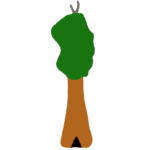 About the Author:
Sue Cag is a musician, artist, writer, photographer, and conservationist.
---
All photos and video by Sue Cag. All Rights Reserved. Photos and video may not be used without permission.
---