UPDATE: This giant tree snapped and fell dead on January 12th, 2021. Gallery of the killed giant below.
Video by ilovetrees correspondent Kim Dicso
Yet another giant sequoia is actively burning in the Alder Creek Grove on January 6th, 2021, nearly 4 months after the SQF Complex / Castle Fire raged through the grove on September 13th. Numerous giant sequoias continue to burn. This big tree is located on land owned by Save the Redwoods League, an organization that has allowed hundreds of giant sequoias to burn to death. This is not beneficial fire, but severe, catastrophic fire that destroyed half of the Alder Creek Grove.
---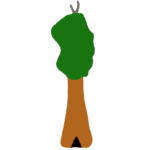 About the Author:
Sue Cag is a musician, artist, writer, photographer, and nature preservationist.
---
All photos and video by Sue Cag. All Rights Reserved. Photos and video may not be used without permission.
---
RELATED:
Alder Creek Giant Actively Burning Two Months "after" the Castle Fire
Alder Creek Grove after the SQF Complex / Castle Fire – October 28, 2020