Dramatic 4K aerial footage of a living giant sequoia currently on fire on December 5th, 2020. This tree is located in a "green" section of Alder Creek Grove, not far from the famous Stagg Tree. It is a stocky but huge giant, approximately 20 feet in diameter at breast height. The land is owned by Save the Redwoods League, a group that has allowed and continues to allow countless giant sequoias to die since the fire began in September. The SQF Complex / Castle Fire was an unnatural, severe, wind-driven fire that burned down houses along with scores of giant sequoias. Vast expanses of sequoia forest have been turned into moonscapes. This big tree is located in a section that was not impacted by severe fire, in a so-called "green" area. There are at least 3 giant sequoias currently on fire and likely to die soon in this green area.
---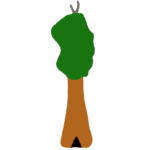 About the Author:
Sue Cag is a musician, artist, writer, photographer, and nature preservationist.
---
All photos and video by Sue Cag. All Rights Reserved. Photos and video may not be used without permission.
---