Update: Interactive map has been removed for use in another project.
It took many months, but every large (approx. 6+ DBH) giant sequoia has been counted in Alder Creek Grove. My original goal was to document all the dead sequoias. I went through the grove top to bottom to capture their locations. I also added those that were heavily damaged since I thought it was important. Then, while looking at the map I thought, I really need to add the living sequoias for context. And to make it look less bleak! So, I started by adding points I already had on my personal map, and then went out and started filling in the remaining trees. With gracious assistance from my partner Kim Dicso who went traipsing around the forest while my knee was out of commission, the map was completed.
200 giant sequoias in Alder Creek perished in the 2020 Castle Fire. 49 more were heavily damaged. The total equals about 47% of all large sequoias in the grove.
I'm reaching out to readers to help raise awareness about what happened to these ancient trees. The SQF Complex / Castle Fire destroyed thousands of giant sequoias across multiple groves. The impact on these rare old giants is immense. The sequoias thrive on lush, cool mountain slopes, but we are quickly turning these landscapes into dead snag forests or scrub desert where conifers no longer grow. Please support efforts to reign in climate change so we can once again see increased snowpack and a less hot and dry world. Start by reading David Attenborough's A Life on Our Planet.
My data was used in the NPS study "Preliminary Estimates of Sequoia Mortality in the 2020 Castle Fire."
Alder Creek Grove Sequoia Mortality Map Post SQF Complex / Castle Fire
Completed in April 2021
[Interactive map originally included, but has since been removed for use in another project.]
NOTES:
Only sequoias at least 6ft DBH (estimated) were included. Hundreds of smaller sequoias are not included.
Sequoias continue to burn and die post-fire. Points may not be updated to reflect these losses.
Moderate or light sequoia damage was not recorded.
Several sequoias in the southwest portion of the grove, as well as the westernmost outlier, are all outside the fire boundary, but were included in the count of living sequoias.
Photos prior to the fire are often included (some before and after shots also included).
Two smaller sequoias were added due to the importance of their locations. One is a living but heat scorched sequoia to the far west (closest to the outlier). One is at the south end with nearly all brown needles.
---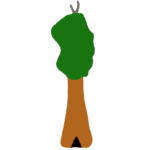 About the Author:
Sue Cag is a musician, artist, writer, photographer, and nature preservationist.
---
All photos and video by Sue Cag. All Rights Reserved. Photos and video may not be used without permission.
---