by Sue Cag
While hiking from tree to tree in a wilderness grove hardly anyone ever sees, I came across two spotted owls, a parent and a baby, high up in a sequoia cavity. When I first arrived at the giant, my eyes followed the vertical line of the trunk upward, noticing a few burned out branch holes. I muttered out loud that it looked like there were owls in one of them, but it was probably just an illusion. Many times before when I thought I saw a bird at the top of a snag or inside a hollow, it turned out to be just an oddly-shaped piece of wood. Luckily, on this trip I brought my binoculars. I pulled them out of my bag, raised them to my eyes, found the spot in question, and gasped. Two spotted owls, a parent with his or her baby, were sleeping in a cavity halfway up the huge sequoia trunk! I couldn't believe it. I've never seen spotted owls in the wild before, much less in a huge sequoia. This was it. I could die now.
I sat down to observe the owls. They were not at all bothered by my presence. I watched them dozing, moving about, looking up into the tree, and peering down toward the ground. The parent preened the young one. The baby, covered by downy white feathers, was very curious about everything, bobbing and swiveling his or her head and neck as only owls can, while the parent stood by, stoically blinking slowly, one eyelid sometimes closing slower than the other. Fuzzy feathers fluttered in the breeze. The owlet seemed to be growing fast, approaching the size of the parent. I could barely make out their pupils in my binoculars since their eyes are so incredibly dark. I finally stopped watching when I realized I'd better take a look at the base of the tree before I ran out of time to complete my trek. I scrambled down to stand below the upslope side of the trunk and looked up to see two pairs of eyes staring down at me from high above. The parent quickly lost interest, but the young one wouldn't stop staring. I gazed back up, my eyes ascending the bright orange bark of the massive trunk until settling on the black eyes of a truly wild forest creature.
Luckily, these rare owls are located in an inaccessible wilderness area, far from destructive human activities (for now) including harsh, sequoia-killing NPS / Sequoia National Park broadcast burning during nesting season (Giant Forest in June 2022 for example) and rampant, ongoing, unchecked logging by Save the Redwoods League, also during nesting season (clearcutting Alder Creek for example). This area also burned heavily in the 2020 Castle Fire, but the vast majority of the old trees (including this one) are fine. The grove's continuing survival is largely due to being a more wild forest (with a full compliment of sequoia companion conifers) rather than a marauded, "managed" one, as well as being cooler, more moist, and protected from wind (for now).
If we truly want to save our sequoias, we need to address climate change. There's no way around it.
Cutting and burning our forests repeatedly is making things worse. It increases the speed and severity of fire due to increased heat, aridity, and especially, wind (think: windbreaks removed). Dense forests don't necessarily burn more severely, and if anything, the opposite is true and they can actually slow fire down. Put that in your back pocket as it slowly becomes common knowledge. Also, think of how intensely areas devoid of trees burn, such as barren hills, grasses, shrubs, and desert. Have we forgotten that fire-adapted landscapes are supposed to burn? When we finally clear away all these distractions, we realize that if we truly want to "save" our sequoias, we need to address climate change. There's no way around it. Unfortunately, there's a lot of money involved and the powers that be, including the Forest Service and Save the Redwoods League, are working hard to destroy our forests completely. We are repeating past mistakes and making things so much worse when we cull all tree life off our mountains.
Think of it this way: What would happen if all people everywhere just *poof* disappeared altogether?
Spoiler: The forests of earth would thrive.
John Krebs Wilderness
Sequoia National Park
California
---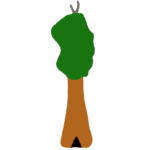 About the Author:
Sue Cag is a musician, artist, writer, photographer, and nature preservationist.
---
All photos and video by Sue Cag. All Rights Reserved. Photos and video may not be used without permission.
---