by Sue Cag
Image: National Geographic May 2022 issue cover shot by Keith Ladzinski
I was approached last year by an editor from National Geographic after he saw my work on the Castle Fire. By that time I had gone deep into the forest to document what happened to my beloved giant sequoias and posted hundreds of photos that could be found nowhere else. I sent him all of my material and he eventually sent me on photoshoots to capture exactly what they were looking for. This resulted in a gatefold poster inside the May 2022 issue of the magazine! The image they chose depicts my lost paradise, my home forest – ancient sequoias reduced to skeletons in an area where not a single tree survived. This is what happened to thousands of these magnificent giants. While this feels bittersweet for me, because the photo features devastation that's also closely tied to personal tragedy, I can find some solace that at least these trees (and forests, nature, and our planet) are being documented, and at best, humans will consider slowing climate change.
Nat Geo also used my video for the digital edition and online article:
https://www.nationalgeographic.com/magazine/article/forests-future-threatened-heat-drought-feature
Head to your nearest newsstand and pick up a copy today!
---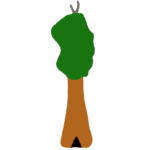 About the Author:
Sue Cag is a musician, artist, writer, photographer, and nature preservationist.
---
All photos and video by Sue Cag. All Rights Reserved. Photos and video may not be used without permission.
---