Updated: October 30, 2022 (complete grove conditions listed below)
September 13, 2021: It has been exactly one year since the 2020 SQF Complex / Castle Fire tore through the giant sequoia groves of the Sierra Nevada. This day is permanently etched in my mind as the day my Home burned to the ground. That's capital "H" Home, representing both my house and the forest I so loved.
Below is a recap of what happened in each grove. The Castle Fire actually continues to burn to this day. When wind kicks up or there's a storm, the big trees reveal that they are still on fire deep inside. There are "flare ups" of the fire on a regular basis. I watch people rebuilding (or purchasing) houses right next to trees actively on fire and it's like looking at insanity. Despite all that has happened and what we know will happen, people continue to be blasé about fire.
On a more personal note, I remain a sort of climate refugee. One year later I still have no permanent residence. I am renting a house on the mountain to stay close to my trees, but I don't know how long I will be permitted to do so. I've also been spending time away, to escape the relentless smoke and noise that permeates the area.
As of this writing, there are several new fires on course to destroy more sequoias. The Windy Fire is currently burning Peyrone Grove and is very close to (if not already in) South Peyrone Grove and Red Hill Grove. Part of the KNP Complex, the Colony Fire may be headed toward Suwanee Grove, and is located west of Giant Forest. Also part of the KNP Complex, the Paradise Fire (a very poorly chosen name) is currently heading into Oriole Grove. We are clearly living in an endless nightmare.
GROVES IMPACTED BY THE 2020 CASTLE FIRE (in alphabetical order) followed by associated articles (last updated October 30, 2022):
Alder Creek Grove
Nearly half of the Alder Creek Grove was decimated by the Castle Fire, including areas of severe burn that left no trees alive. Some sequoias continue to burn inside their trunks. Further damage is occurring presently via logging operations by Southern California Edison, Tulare County (under Cal OES and FEMA), and Save the Redwoods League. The resulting clear-cuts escalate heat, drought, and wind, which in turn increases fire risk. New growth and seedlings are also destroyed by these activities. Natural forest regeneration is being prevented in this grove. Articles:
Save the Redwoods League is Logging Alder Creek Grove
Tulare County and Cal OES are Committing Disaster Fraud by Cutting Living Green Trees
Whitethorn – Another Giant Sequoia Burning in the Castle Fire
Giant Sequoia Cut Down in Alder Creek Grove
200 Dead Giant Sequoias in Alder Creek Grove
Even After Snow, the Fire Continues
Sequoia Skeletons in the Snow
Bears We've Known
Waterwell – A Giant Sequoia Destroyed by the Castle Fire
Yet Another Giant Sequoia Burning in the Alder Creek Grove
Alder Creek Grove Aerial Video After Fire
Giant Sequoias on Fire in the Alder Creek Grove
Alder Creek Giant Actively Burning Two Months "after" the Castle Fire
Stagg Lives, Waterfall Perishes
Alder Creek Grove after the SQF Complex / Castle Fire – October 28, 2020
Alder Creek Grove after the SQF Complex / Castle Fire – October 27, 2020
Alder Creek Grove (and Sequoia Crest) "After" the Castle Fire – October 11-16, 2020
---
Board Camp Grove
Board Camp Grove was severely impacted by the Castle Fire. A majority of the giant sequoias perished. Green survivors remain in the lower creek drainage and a small pocket higher up. This grove is very hard to access and as such, most people will not understand the loss it endured. After the fire, the NPS has plans to bring in helicopters in order to plant a tree farm in this grove (that's supposed to be protected by the Wilderness Act). For more, see the following articles:
Board Camp Grove After the Castle Fire
Sequoia National Park Announces Plans to Create a Tree Plantation in the Wilderness
---
Burro Creek Grove
The Castle Fire just barely dropped into upper Burro Creek in a few places. It did not burn through the grove. I've visited the grove since the fire, but I didn't reach the upper areas impacted. I didn't find any sequoia losses using aerial views.
---
Dennison Grove
Dennison Grove burned in its entirety, but (despite being debris-laden) only lost a single giant sequoia. It's a beautiful grove in wilderness condition.
---
Devils Canyon Grove
Devils Canyon Grove burned in its entirety, but suffered no sequoia losses. It's a beautiful grove in wilderness condition.
---
Forgotten Grove
Forgotten is a little-known grove of two trees. It's considered a separate grove due to the significant distance from any other sequoias. The upper sequoia was severely damaged and will likely not survive (it will need to be checked again after several years pass). The lower sequoia was also damaged, but will likely survive.
Forgotten Grove: A Tale of Two Sequoias
---
Freeman Creek Grove
Swaths of Freeman Creek Grove burned severely. The area to the south of the Freeman Creek Trail burned with near 100% tree mortality, as did a smaller portion to the north. A vast majority of the sequoias near the trail were not impacted. Most people will not understand the massive scale of loss in this grove (which contrary to some reports, was partially logged and heavily grazed).
Freeman Creek Grove during the Castle Fire
---
Garfield-Dillonwood Grove
The Garfield section of Garfield-Dillonwood fared better than any other area in the Castle Fire. The fire went through the entire grove but did not kill that many sequoias. The famous King Arthur tree continues to burn to this day. Several others are damaged or were killed, but the numbers are low. Sawtooth split at the bottom and is a total loss. There is also one small area that suffered severe burn and the number of losses there is unknown.
Portions of the Dillonwood area were severely impacted with innumerable losses. The upper part of Dillon Canyon was devastated. In striking contrast, green Garfield sequoia domes stand right above the annihilated area, just on the other side of the ridge. The young sequoias along the road into Dillonwood experienced mixed impacts and generally fared well. The same is true for a few other pockets of sequoias including those on slopes below Moses Mountain. Because most of the loss is out of sight of the casual visitor, most people will not comprehend the impact of the Castle Fire in Dillonwood.
Dillonwood after the Castle Fire
King Arthur, the 9th Largest Tree in the World Perishes
---
Homers Nose Grove
Upper portions of Homers Nose Grove burned severely, experiencing total sequoia loss. However, there are pockets of living trees as well. The area along the Ladybug Trail at the bottom of Homers Nose Grove (sometimes erroneously referred to as Cedar Flat Grove) fared well and did not experience sequoia losses.
---
McIntyre Grove (Belknap / Wheel Meadow / Carr Wilson)
McIntyre Grove lost a majority of its giant sequoias. Many still remain in low drainages and high up on Slate Mountain. Fire flare-ups continue to occur regularly, revealing that the forest is still burning two years after the blaze tore through.
McIntyre Grove (Belknap) – Nelson Trail After the Castle Fire
Patriarch Tree Destroyed in the Castle Fire
---
Mountain Home Grove
Sections of Mountain Home Grove burned severely and several giants burned for over a year. In August 2021, the famous Great Bonsai split, dropped its branches, and burned up. Some of the other named trees were damaged but not destroyed. The tourist areas were not impacted and as such, most people will not understand the serious losses that occurred here. Mountain Home (which is intensely logged and managed) may have lost more trees in number than anywhere else in the Castle Fire's footprint. As of 2022, Cal Fire is clearcut logging and further decimating all of the burned areas.
Great Bonsai Drops and Burns in Mountain Home
Mountain Home Castle Fire Update
RIP: The Great Bonsai Tree – One of the Most Remarkable Trees in the World
Mountain Home Grove Sequoias Heavily Damaged
---
South Fork Grove
South Fork Grove burned thoroughly in the Castle Fire and experienced several sequoia losses, but overall, it remains in good condition. It is a beautiful wilderness grove. See Spotted Owls in a Giant Sequoia.
---
The NPS Sequoia Mortality Study:
Sequoia Mortality Study Released
---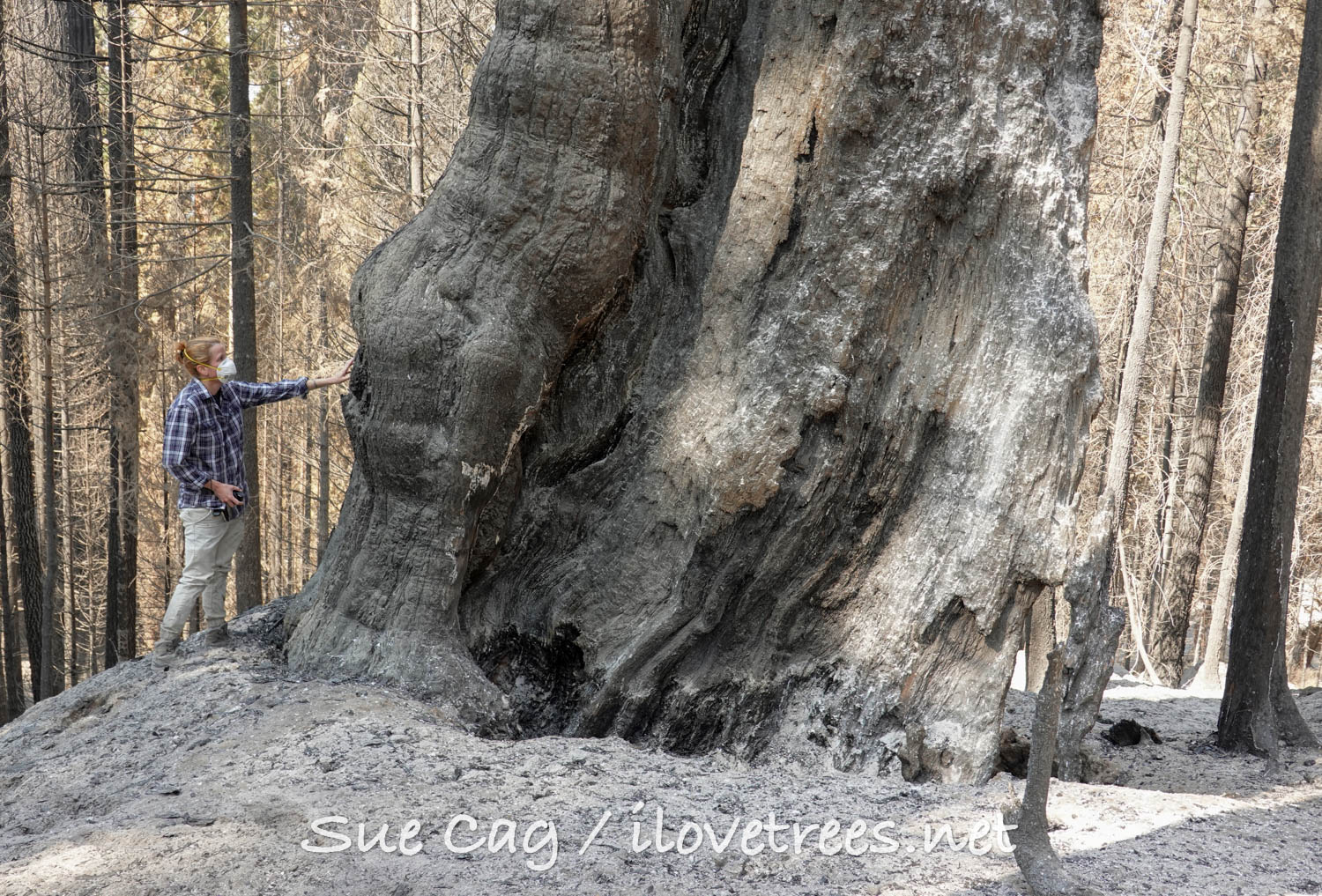 ---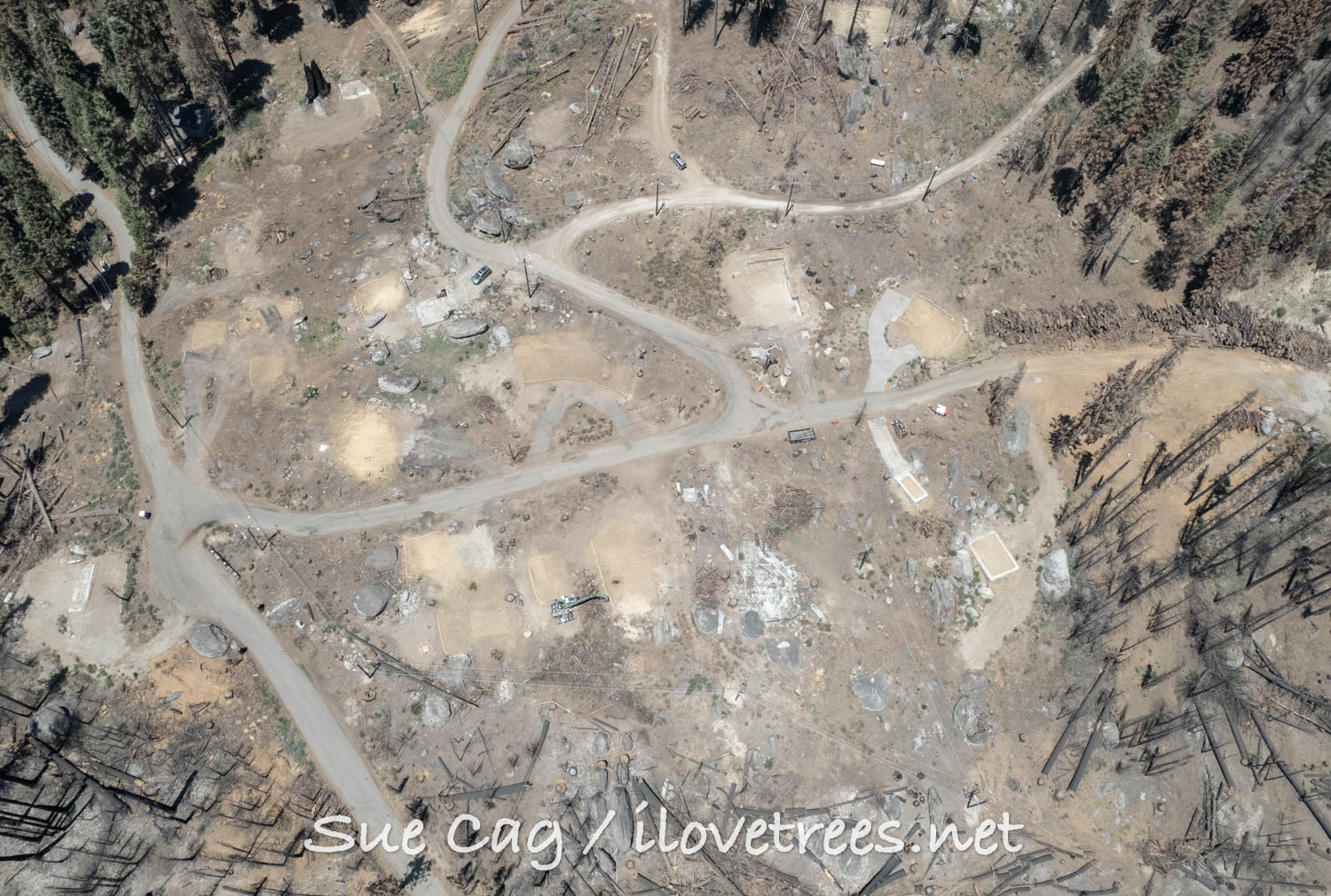 ---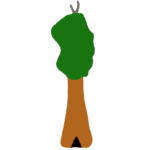 About the Author:
Sue Cag is a musician, artist, writer, photographer, and conservationist.
---
All photos and video by Sue Cag. All Rights Reserved. Photos and video may not be used without permission.
---