The acrid sting of smoke fills my nostrils as I stand at a safe distance below the remains of the gigantic King Arthur tree. Tiny fragments of bark and little brown needles flutter down. I look up to see light smoke billowing intermittently from a huge gray gash near the top of the lopped-off trunk. I quickly realize that King Arthur is still on fire. [Video]
This comes as no surprise. I've seen it too many times. Just over a week ago SEKI (short for Sequoia and Kings Canyon National Parks) issued a press release about a giant still on fire in the Board Camp Grove. This gained national attention and the story has been forwarded to me several times. How many sequoias have I seen still on fire before this announcement? So many I've lost count.
Overall, the Garfield section of the Garfield-Dillonwood Grove fared better than any other area consumed by the SQF Complex / Castle Fire (Dillonwood not so much, more on that in a later post). The areas across all groves that didn't burn severely reside on cooler, wetter, and generally north-facing slopes. In a hotter, drier world, these are the only places giant sequoias will be able to survive. Garfield is located on just such cooler slopes and will likely be the last bastion for the sequoias in their natural range.
All along the trail through the grove I see sequoias with blackened bases, some lightly, some more harshly. I don't go scrambling around too much (except to climb up to King Arthur and friends), but it seems that the entire Garfield area received a light to moderate burn throughout. All of the understory is gone, but in a good way. I could almost call it a good burn. It's tough to say because the farther along I go, the more damaged sequoias I see. Some have lost tops and some are heat-scorched with full heads of brown needles. Some survive with bases deeply scorched and undermined, weakening the roots and trunk. Some are clearly dead. But there are no moonscaped areas and no fully charred sequoia skeletons in view* as I've seen in too many other groves (Alder Creek, McIntyre, Freeman Creek, Mountain Home, Board Camp, Homers Nose). That's a huge deal.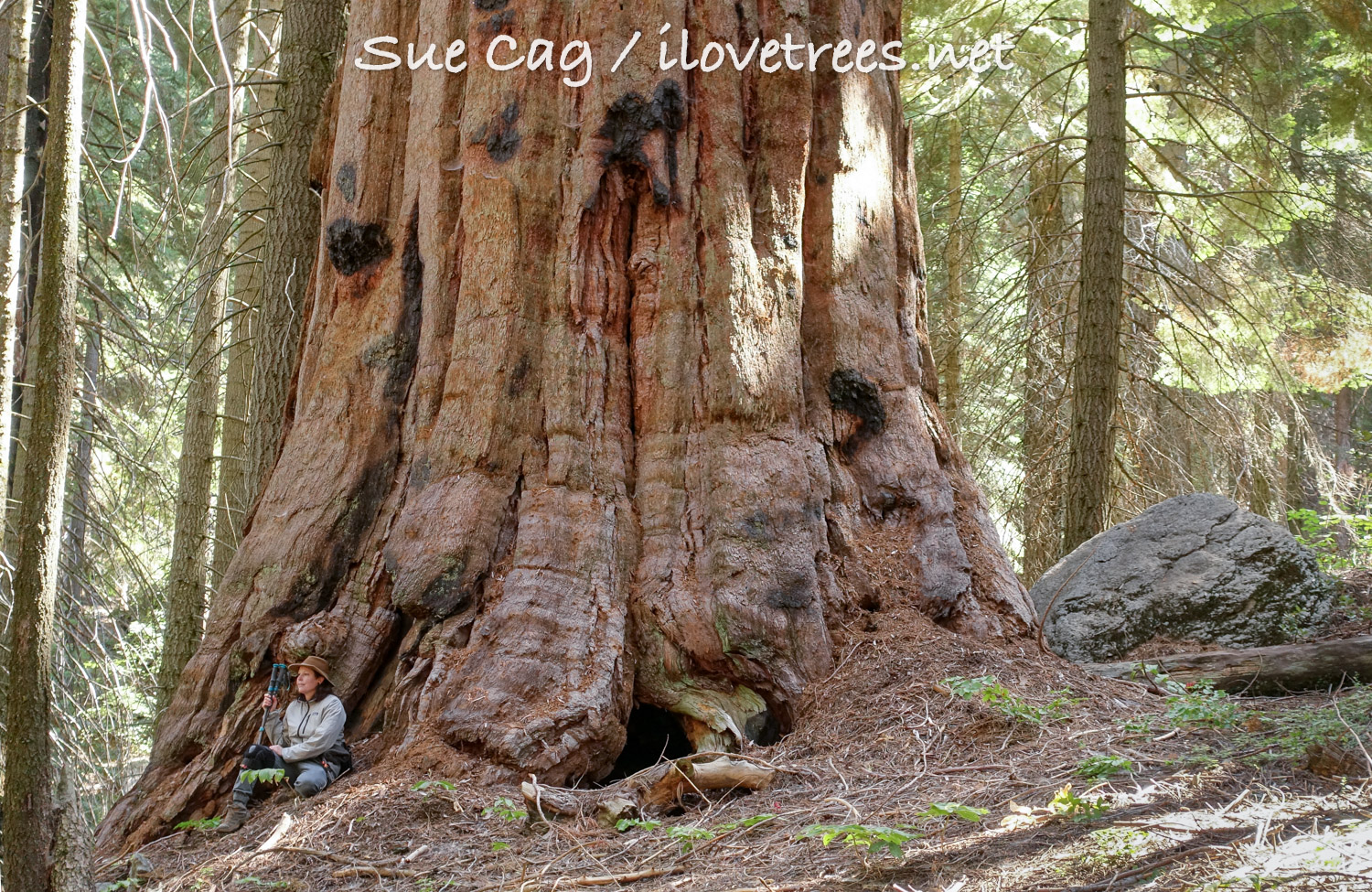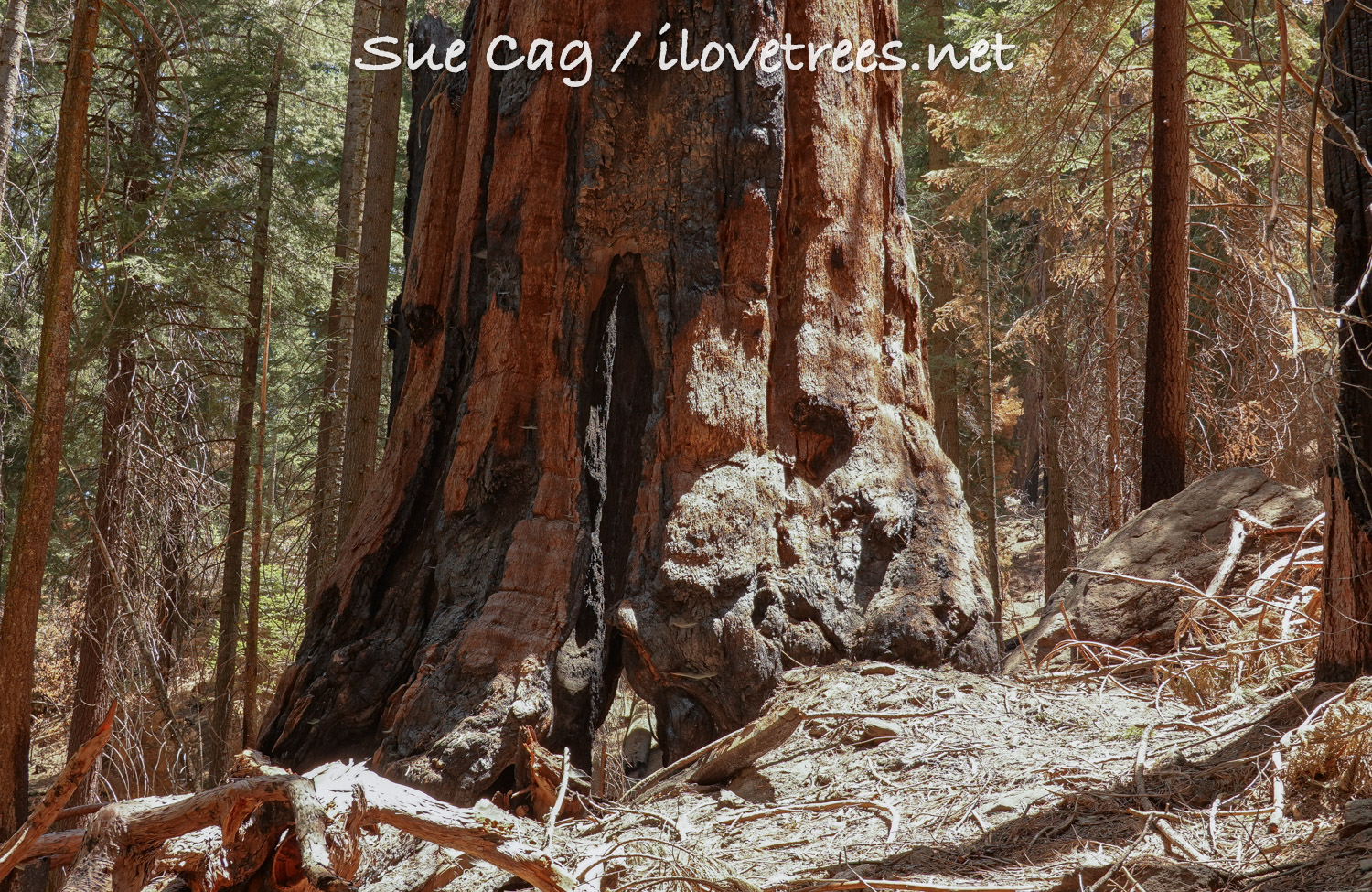 Garfield giant near the trail, before and after the fire killed it
King Arthur is deeply carved into at the base. The long keyhole that ran down the trunk previously has been enlarged into a massive cavern. The opening extends all the way through to the opposite side. The giant's top, formerly peaked by a peace sign of dead wood, broke off and fell downslope. The area below the tree is littered with huge chunks of wood and copious amounts of brown needles with their male cones still attached. Looking inside the snagged top from above reveals a fireplace of ash. Most of the limbs are lost, but a few smaller branches futilely hold onto sprigs of green.
Other giant sequoias on this ridge got hit in a similar way. I spot a few more lost tops while wandering briefly around the slope. The Floyd Otter tree just upslope from King Arthur is heavily damaged and is likely a loss. The base is even more carved out than it was before and the top is heavily burned, but the giant retains a few branches that still hold some green. It might be a long shot, but it's not impossible. Shockingly, the Eric de Groot tree with its canopy so very close to Otter, looks just fine. A log burned away below the base, but didn't do too much harm. The crown is entirely intact. Such a wonderful surprise!
The nice group of sequoias just upslope and east of King Arthur also look good. A few are carved into, but most appear unharmed. Most of the plentiful domes in view are ok. It's a huge relief to find Garfield mostly intact.
During my trip up to Garfield, I also visited Forgotten Grove, Board Camp Grove, and took a brief peek at Homers Nose Grove and South Fork Grove. Forgotten got hit, leaving one sequoia dead and the other heavily damaged. Board Camp is almost entirely a sequoia skeleton moonscape, but retains two pockets of mostly smaller green-topped sequoias. Homers Nose looks very similar. South Fork Grove looks more or less intact, with several amber-brown scorched crowns and some lopped-off sequoias, similar to Garfield. I will write more about these areas in subsequent posts.
RIP: King Arthur, formerly the 9th largest tree in the world
*There is a relatively small severely burned area of dead sequoias at the bottom of Garfield (north/northeast), but it's very hard to see and impossible to access. I was unable get an estimate of the losses in that section.
---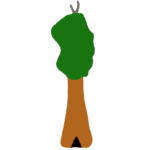 About the Author:
Sue Cag is a musician, artist, writer, photographer, and nature preservationist.
---
All photos and video by Sue Cag. All Rights Reserved. Photos and video may not be used without permission.
---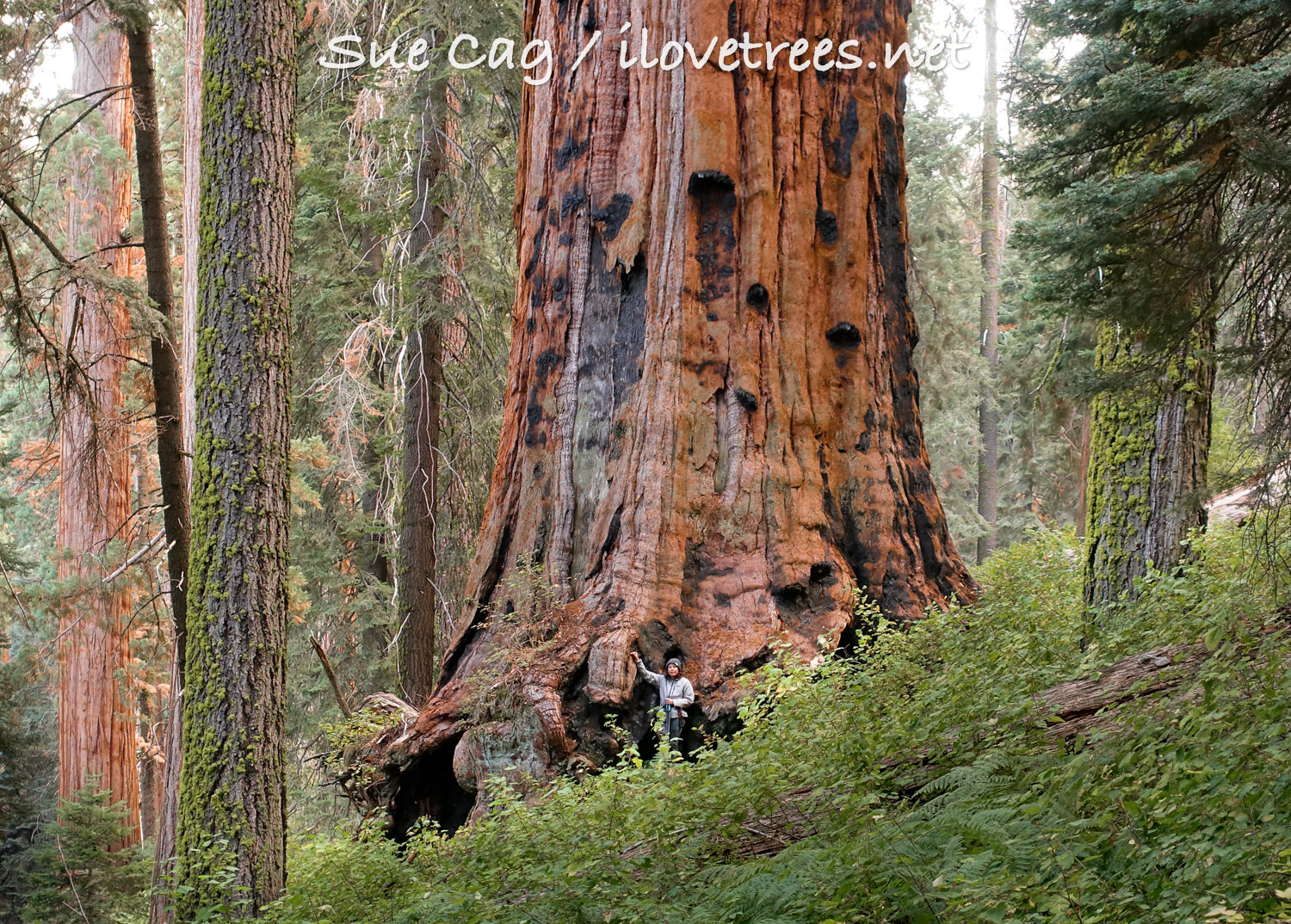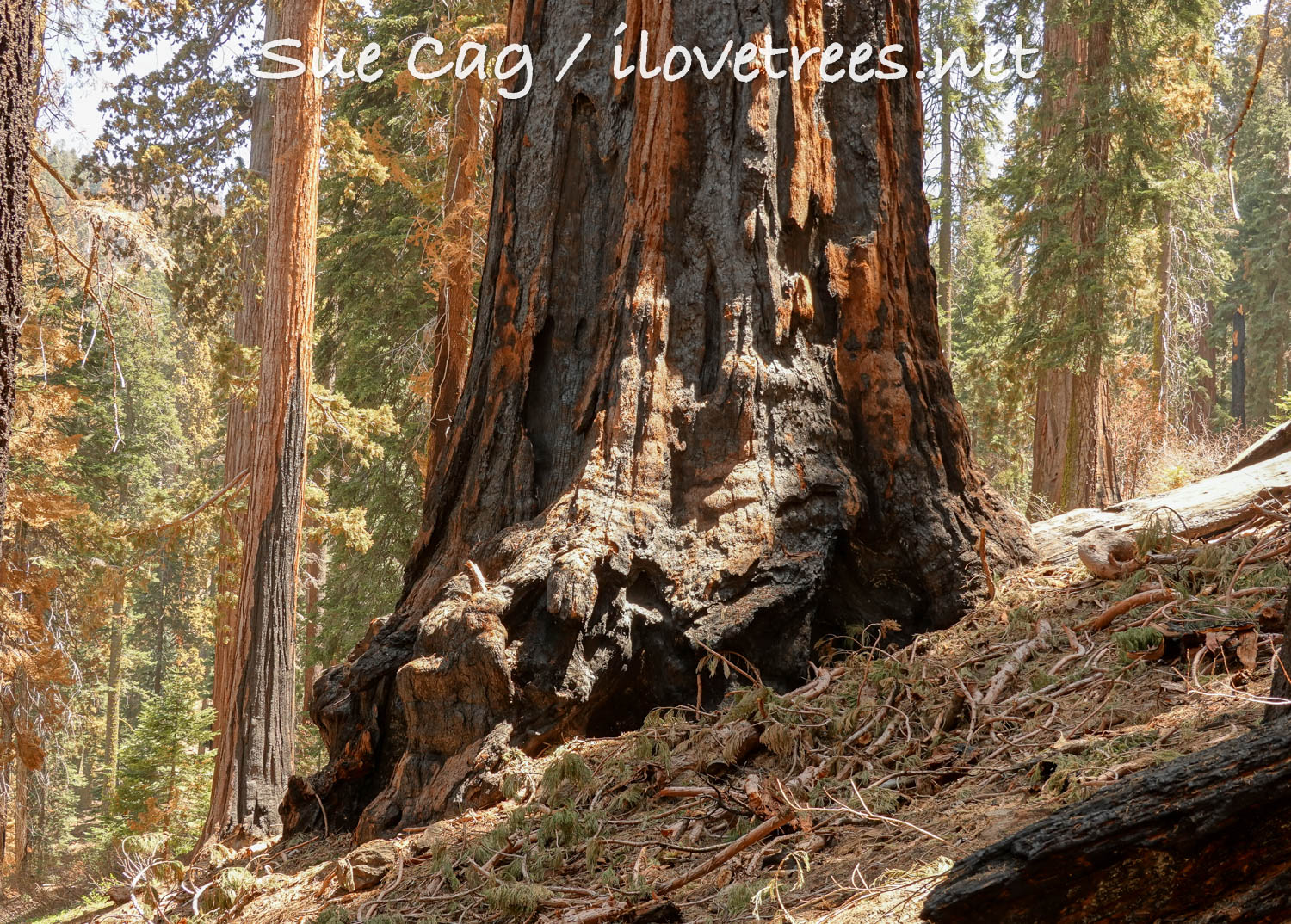 King Arthur before and after the fire
---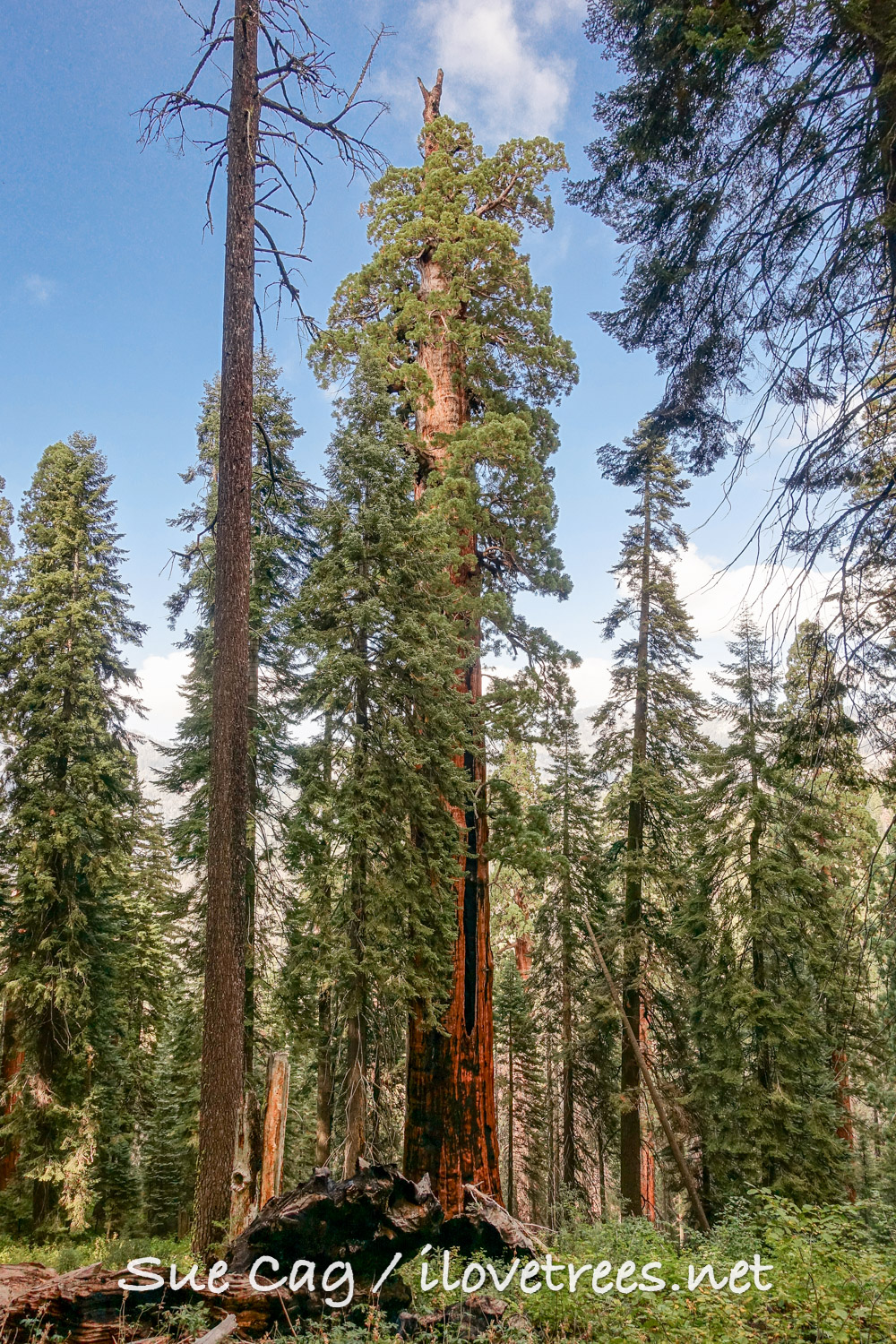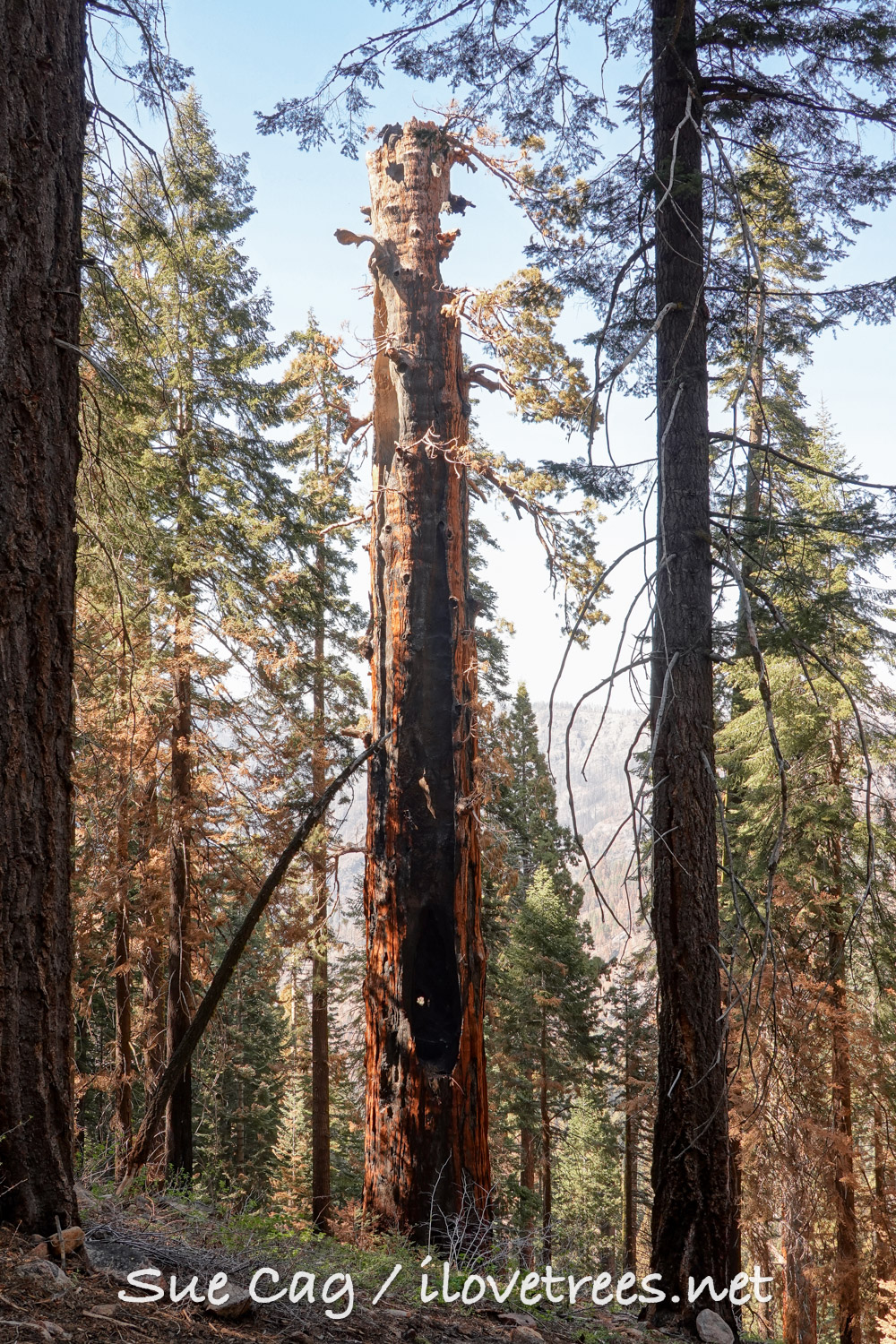 King Arthur before and after the fire
---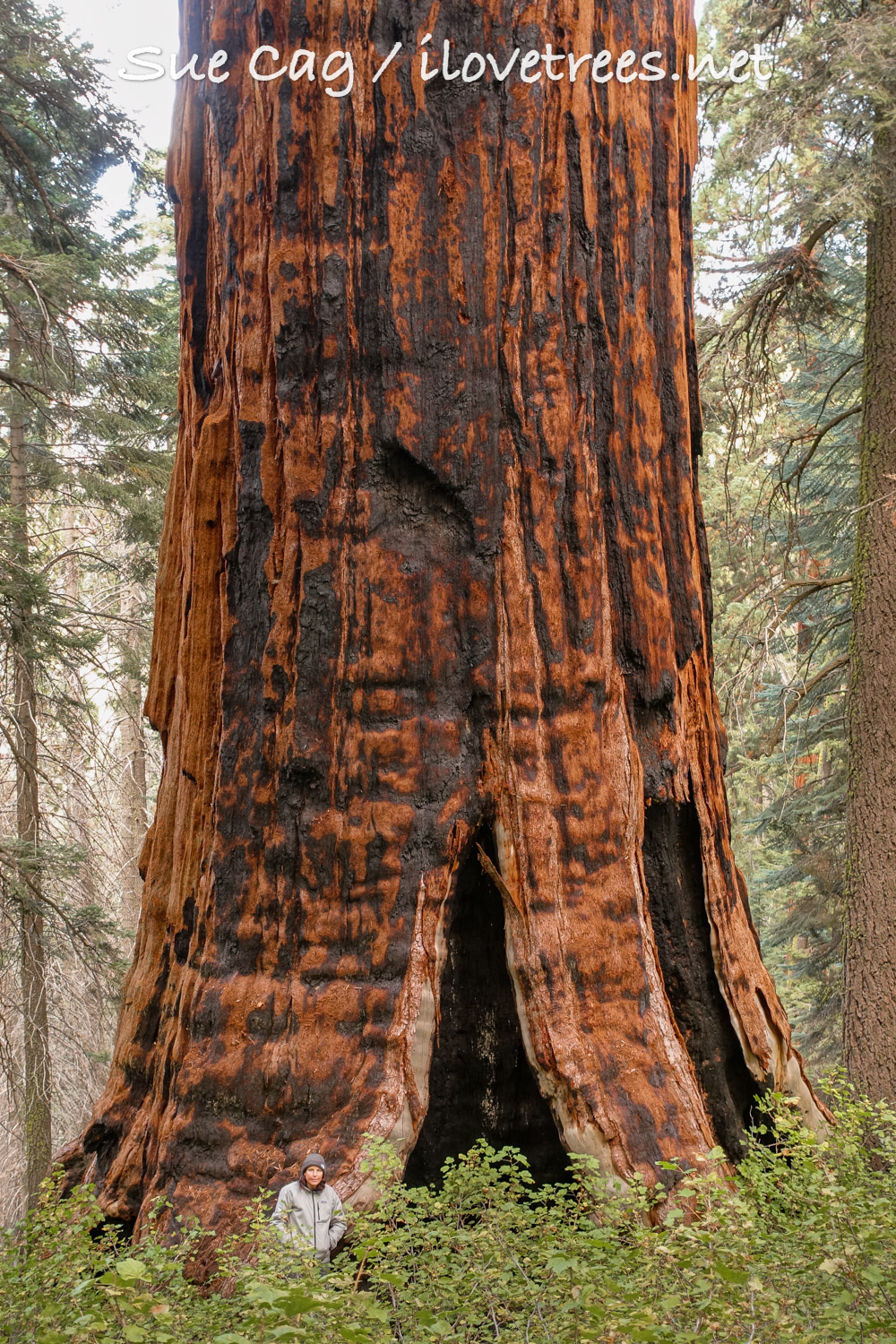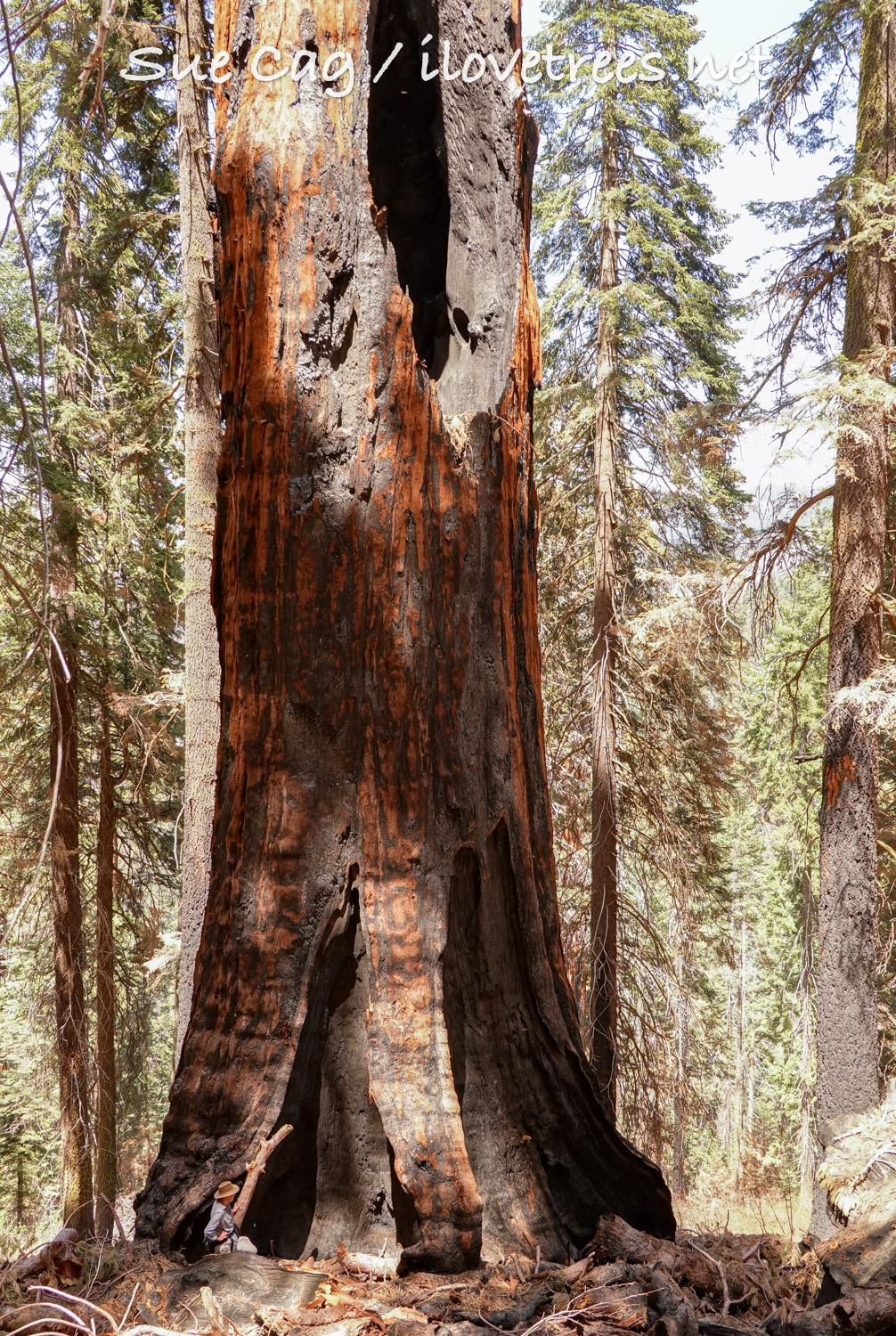 King Arthur before and after the fire
---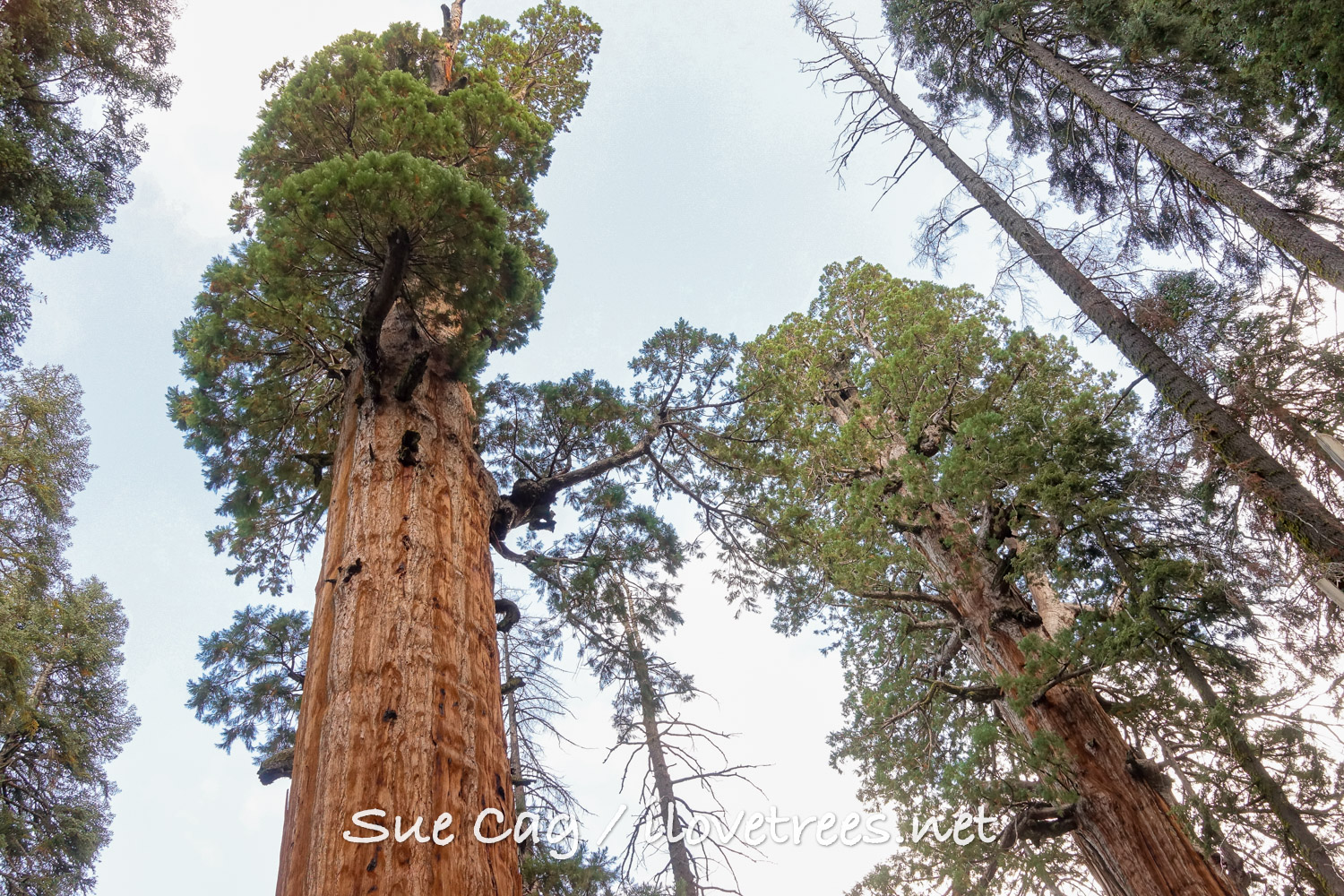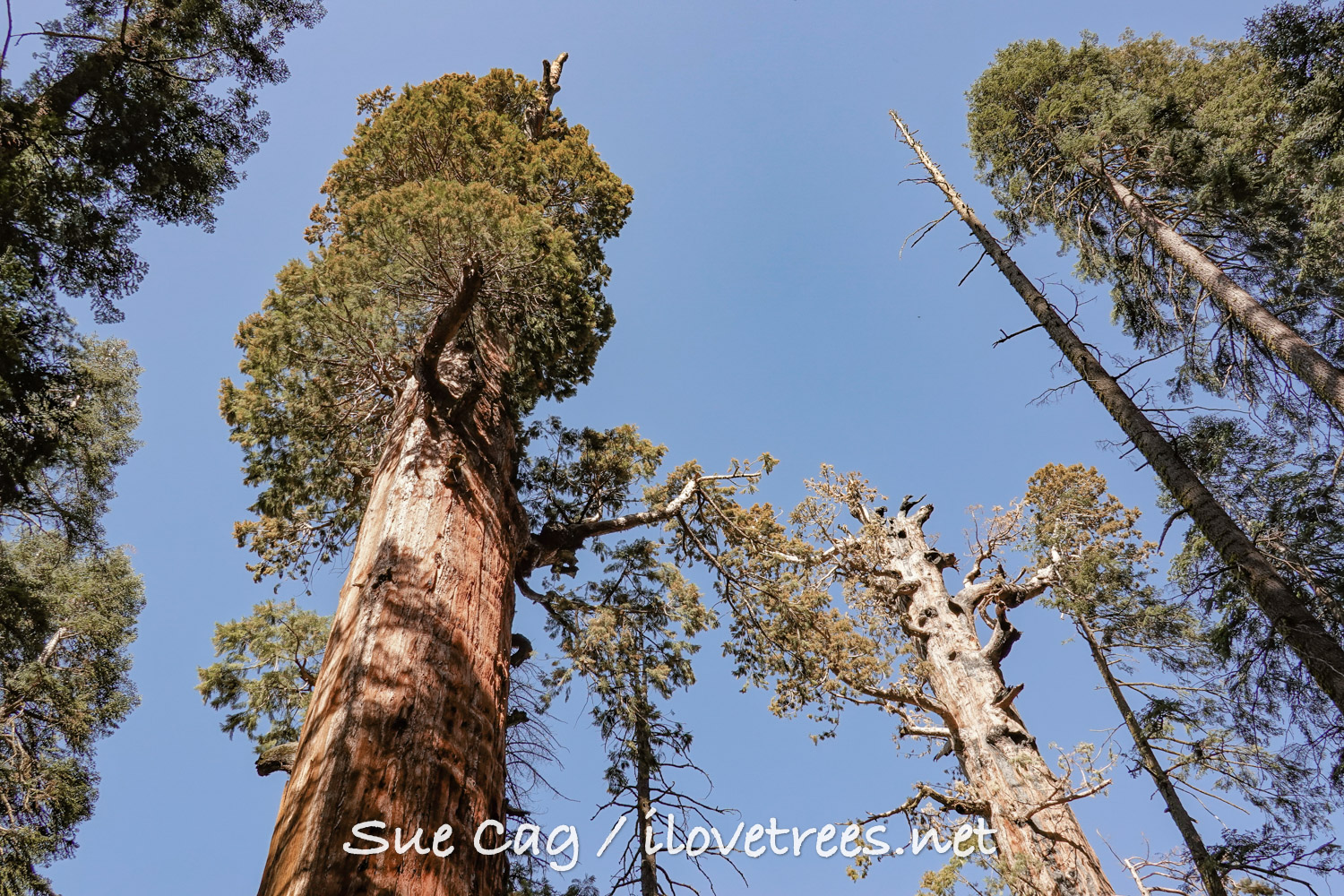 Eric de Groot and Floyd Otter before and after the Castle Fire
---
MORE KING ARTHUR PHOTOS (SEE CAPTIONS):
FLOYD OTTER (SEE CAPTIONS):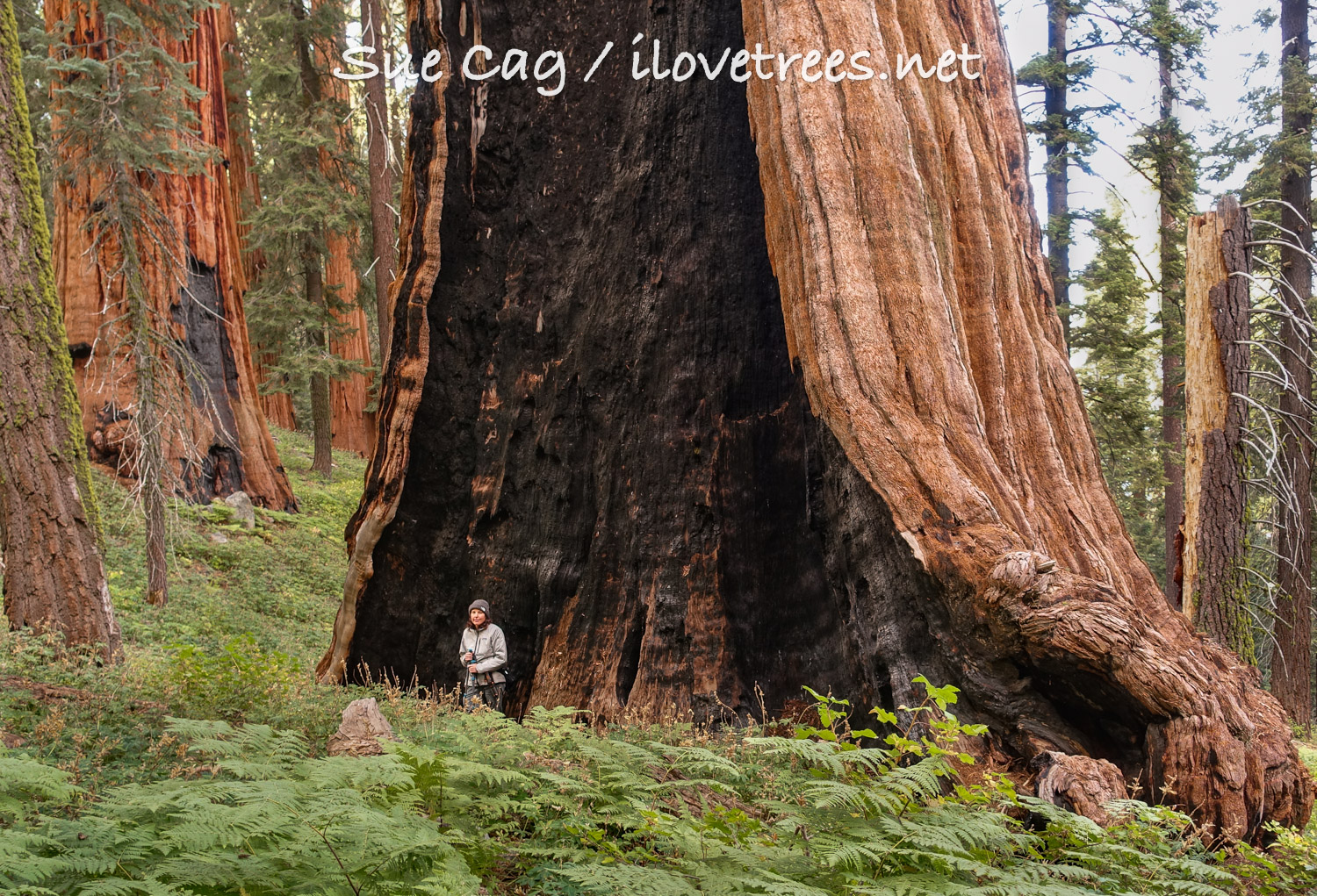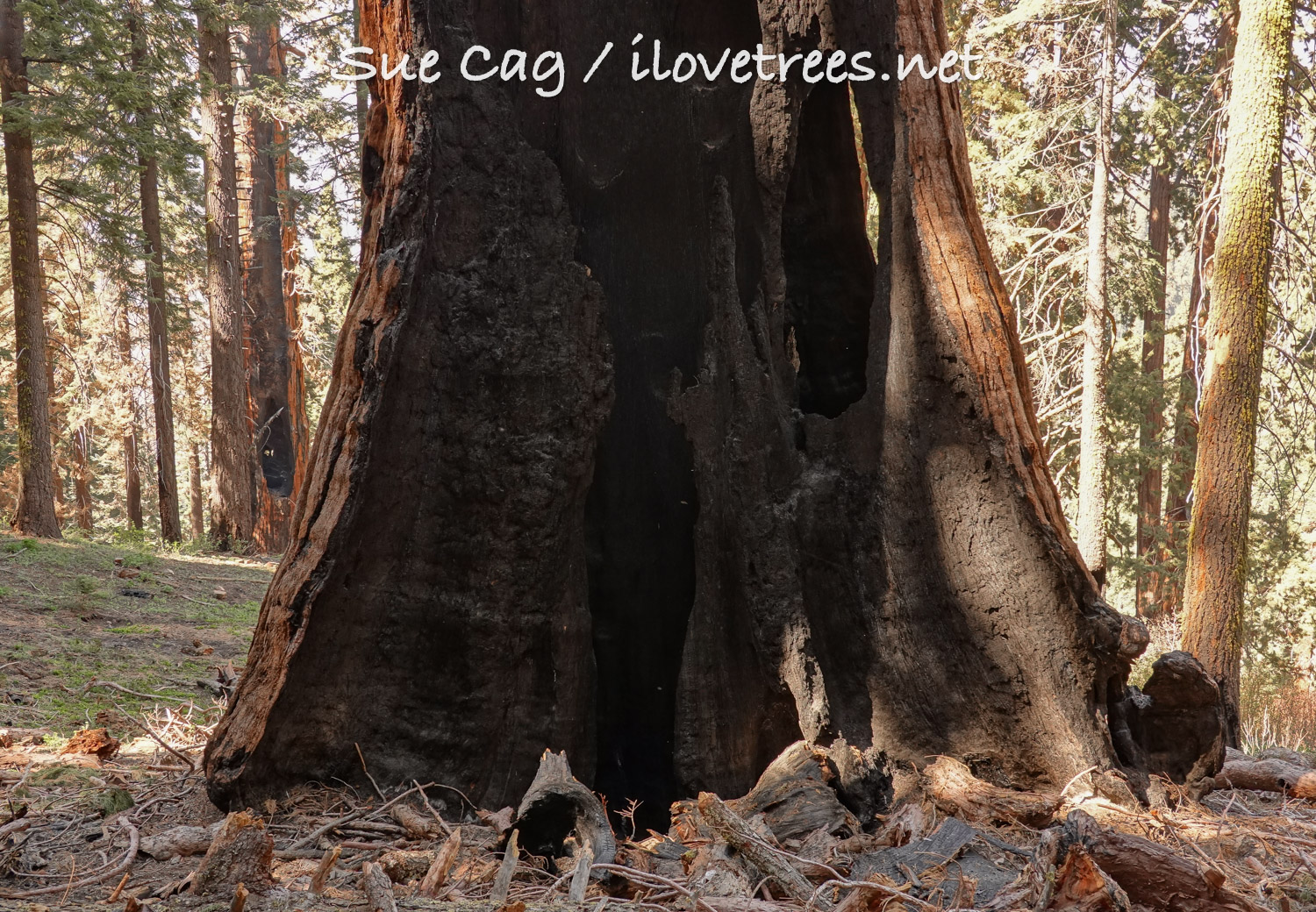 Floyd Otter tree before and after the fire

ERIC DE GROOT:
MORE GARFIELD PHOTOS (SEE CAPTIONS):