by Sue Cag
We walked 28 miles through Redwood Mountain Grove, hiking up and down steep slopes over 3,000 feet in elevation. The immense number of natural sequoia seedlings flourishing in the grove was absolutely astonishing. They're everywhere, in every part of the grove that burned harshly, in the southern portion of the canyon, along the former Hart Tree Trail, all over the Sugar Bowl. They're even growing by the Big Springs outliers (sequoias that didn't die in the fire despite never having been "managed"). The seedlings are surprisingly robust, despite only being one year old, or less. Regardless of this obvious reality, the NPS (National Park Service) has gone in to destroy the grove by planting artificially grown sequoias. They are killing the natural sequoia seedlings. Their plantings will forever alter grove genetics we haven't even studied yet. They may also bring in pathogens that could destroy the entire forest, as people have done so often, but tend to forget. Their decision to do this is shocking and illegal. Redwood Mountain Grove is located in Wilderness, as are many of the park's other misguided planting projects. These are unique areas designated to be free of people's manipulation. The NPS is acting as an autocratic power, as these harmful schemes are taking place on OUR public land. They're acting as though the land is theirs, to do with whatever they want.
We've also been to every single grove that burned in the 2020-2021 wildfires (the 2020 Castle Fire and the 2021 Windy and KNP Complex fires, respectively). There are millions of sequoia seedlings everywhere that burned harshly. Sequoias very obviously thrive by fire, especially severe fire. They've been doing so for millions of years, as far back as the Tertiary period. It's absolutely amazing to watch their rebirth, even just the little bit of it that we get to glimpse during our extremely short lifetimes. In a few millennia, the monarchs will have reinvented themselves – assuming we allow it, which doesn't seem to be the case. Unfortunately, we're seeing tyrannical "authorities" bulldozing through groves, logging, burning, and building tree farms. The natural sequoia seedlings are being destroyed in numerous groves. The new genetic code provided by the ancient monarchs to their burgeoning progeny seems on track to be lost, if we don't wake up and realize the harm we're doing.
This video shows the abundant natural giant sequoia seedlings in Redwood Mountain Grove. No "help" needed!
---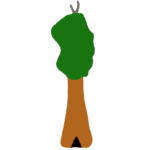 About the Author:
Sue Cag is a musician, artist, writer, photographer, and nature preservationist.
---
All photos and video by Sue Cag. All Rights Reserved. Photos and video may not be used without permission.
---