I've been to the Abbey Foy Moore Nature Preserve many times. I find the familiar trailhead behind the Poplar Grove parking lot. The trail is wide and popular. Dogs run alongside joggers, parents walk with their children, and friends take a stroll after work. Still, there's enough space here that you can stop and feel the vibe of the forest. You'll hear the rumbling traffic from route 17 too, but you'll also hear a variety of birds, squirrels jumping from branch to branch, and the flap of a huge heron's wings as she takes flight.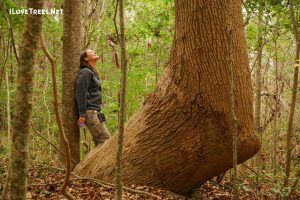 The trail is pure leisure. I can look up without staring at my feet because the path is flat and smooth. I see the tall branches of gum trees and laurel oaks that are hidden in the brambles of the forest. I find numerous mature trees tucked back here among new growth. I count tuliptrees, loblolly pines, and dogwoods.
Soon I enter a long walkway across Mill Pond with small cypress trees creating mirror reflections in the water and little turtles poking their heads up for air. There's a bench to relax on and enjoy the view. When I pause here I'm treated to great herons flying overhead and numerous other birds tittering and moving along the branches on either side of the pond.
There are a few different trail options as I continue. I turn left. I'm led past flowering dogwoods and large twisting loblolly pines with unusually low branches. Then I come upon a creepy pine forest. This area has obviously been logged as there are numerous thin pine trees all the same height. It appears dark and monotone, gray and dull blue. I take solace in this unnatural forest by appreciating the carolina jasmine I find littering the forest floor. I inhale their sweet scent.
Next I come upon a field. I notice wild flowers growing in the rough ground and along the field's edges. I find flowering buckeye along the wind break as well as a majestic pine towering into the sky. A bunny scampers off into the brambles as I pass by.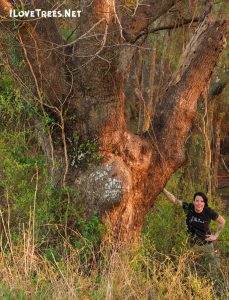 I follow the wind break until the end and I find a massive gum tree rooted there beside a swamp. The trunk is thicker than any other tree here and it's partially obscured by vines and shrubs. I watch the sunset from here, the rays beaming through the trees, the leaves glowing gold and verdant hues.
I turn to walk back, stopping to admire the half hollow tuliptree at the corner of the field. Down the trail on my left the land has been clearcut. It's a terrible eyesore but not an uncommon sight. Our towns, neighborhoods, and businesses are nothing more than clearcuts themselves. Here we may react more strongly when it's fresh and we can see the raw stumps, the felled magnolias, the huge stacks of trees, the land violently stripped of life. And we know what we're missing.
The trail back is warm and tunnel-like. Pine needles cushion my feet as I dreamily saunter out of the thin forest, still spotting a few mature trees tucked in the woods. Helpful signs along the trail tell me what kind of tree I'm looking at. A small orange spotted butterfly lands on the path in front of me, gracefully moves his wings up and down, then flies away as I approach. He lands again a little farther down the trail. I stop and crouch down on my knees to admire the color and texture of his forewings and hindwings, but he quickly flies off again, away from my footsteps and into the trees.
---
Dedicated to Margaret Abbey Foy Moore, the preserve consists of 62 acres protected through conservation agreements between the Foy family and the North Carolina Land Trust. Approximately 2.4 miles of popular nature trails wind through the property. Located at (but not owned or operated by) Poplar Grove Plantation (10200 US-17, Wilmington, NC), it is open and free to the public during daylight hours. Dogs must be leashed! 
---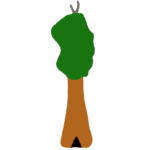 About the Author:
Sue Cag is a musician, artist, writer, photographer, and nature preservationist.
---
All photos and video by Sue Cag. All Rights Reserved. Photos and video may not be used without permission.
---
PHOTO GALLERY

All photos by Sue Cag. All Rights Reserved. Photos may not be used without permission.