by Sue Cag
The giant sequoias never look more in their element than when wrapped in robes of frost. This is how they should be. Plus, it offers them a brief break from the marauding of man. Enjoy this beautiful glimpse into the wonder and awe of snowshoeing through a forest of ancient elusive beings.
Snowshoeing Sequoias 4K Video:
---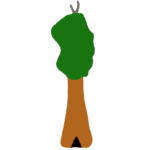 About the Author: Sue Cag is a musician, artist, writer, photographer, and nature preservationist.
---
All photos and video by Sue Cag. All Rights Reserved. Photos and video may not be used without permission.
---