Save the Redwoods League continues to clearcut a large section of the Alder Creek giant sequoia grove. This member-supported operation is scheduled to continue over the course of a few years. Below is an unedited aerial video of what the logging looks like so far. Why is this a problem? Here's a quick list.
– Directly increases climate change by removing the carbon sequestered in these trees.
– Directly increases temperature *heat* in a world already too hot by removing the trees filtering the hot sun.
– Directly increases drought by removing trees and causing the soil to dry out because it is fully exposed to the sun.
– Increases wind due to the removal of natural windbreaks. Wind drives wildfire and increases its severity.
– Destroys all natural forest regeneration. All seedlings were bulldozed and destroyed.
– Destroys the forest ecosystem which will never return as it once was.
– Destroys all wildlife habitat, including bear, mountain lion, bobcat, coyote, fox, deer, peregrine falcon, and spotted owl habitat.
– Will be replanted using foreign seedlings which will forever alter the genetics of a rare and endangered forest.
– Wastes water in a drought-stricken area to force artificial seedling growth.
– Assumes plantings will survive long-term despite being located in an area that is too hot and too dry.
– Completely distracts people from addressing climate change, which is what we really need to be doing!
Related article: https://www.ilovetrees.net/save-the-redwoods-logging-sequoias/
---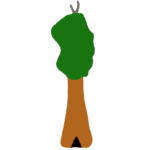 About the Author:
Sue Cag is a musician, artist, writer, photographer, and conservationist.
---
All photos and video by Sue Cag. All Rights Reserved. Photos and video may not be used without permission.
---